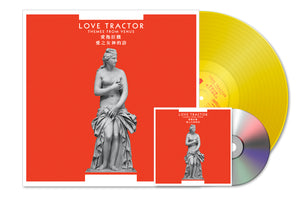 Love Tractor LP + CD Bundle
$28.00
Translation missing: en.products.product.regular_price
$40.00
Pre-Order Love Tractor's "Themes From Venus" LP + CD Bundle.

The Art Rock pioneers and founders of the Athens, Georgia alternative music scene's Remastered Edition of their 1988's Mitch Easter-produced Themes From Venus.

Bundle includes: Limited Edition Yellow Vinyl housed in a gatefold jacket with a full-color insert + a CD in a full-color gatefold digipak with Bonus Tracks -available on CD and digital only.
CD / Vinyl Track Listing: 
•I Broke My Saw (Remastered)
• Themes From Venus (Remastered)
• Crash (Remastered)
• Satan's New Wave Soul Losers (Remastered)
• Venice (Remastered)
• Crystal World (Remastered)
(Side B Break, Vinyl)
• Hey Mess (Remastered)
• Nova Express (Remastered)
• Fantasy (Remastered)
• Here Come The Cops (Remastered)
ADDITIONAL TRACKS ON CD EXPANDED EDITION
• Nighttime Time Zone (Brendan O'Brien Mix)
• Hey Mess (Brendan O'Brien Mix)
• Fantasy (Instrumental Mitch Easter Mix)
• I Broke My Saw (Long Version Mitch Easter Mix)
• Satan's New Wave Soul Losers (Instrumental Mitch Easter Mix)
• Crash (Instrumental Mitch Easter Mix)