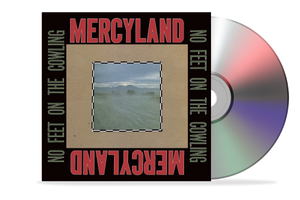 Mercyland's No Feet On The Cowling [2023 Remixed & Remastered Edition] CD
Mercyland's No Feet On The Cowling [2023 Remixed & Remastered Edition] CD 
Athens, GA's legendary post-punk trio's sole 1989 "lost American underground classic" is now updated! 
Before he was in Sugar or became the Drive-By Truckers' producer-of-choice throughout their career, David Barbe led the Athens, GA trio Mercyland, who made one minor classic with 1989's No Feet On the Cowling. The legendary Athens, Ga post-punk band's sole album originally released in 1989 has been fully Remixed & Remastered.
For this 2023 Reissue, Barbe went back to the master tapes and was able to remix the album to the robust sound that he intended it to be back in 1989. The "lost American Underground classic" album now sounds bigger and better than ever.  Finding a raw but tuneful midpoint between British post-punk and American rock & roll, the band never sacrifices melody for power (or vice versa), adding counterpoint vocals and lyrics that explore the human experience without falling into obvious clichés.
For fans of Sugar, Hüsker Dü, The Replacements, Meat Puppets, Mission of Burma & Dinosaur Jr.
This CD comes in an Eco-Wallet w/ Lyrics
Track Listing:
Guessing Time Is Gone

Big Wind From East Jesus

Chains

King Clover

Ives St. Cockelbur

Distant Line

Fall of the City

Proceed With Discretion

Gets My Soul to Vigor

Rotten on the Vine

All Your Fools Fall Down

White Cross
**This is a Pre-Order.
**All Items Will Ship On 11/03/2023**