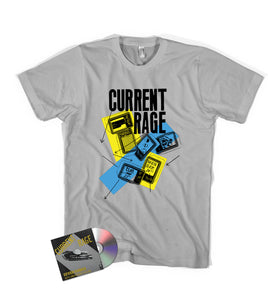 Current Rage CD + Tee Bundle
Current Rage

's

 

"Seven Songs [40th Anniversary Expanded Edition]"

 

CD + Tee Bundle.


CURRENT RAGE – The missing musical link between Athens and Atlanta.

To celebrate the 40th Anniversary of the out-of-print forgotten classic, Current Rage's sole indie record is being treated to a remastered and expanded edition of "Seven Songs". The relative scarcity of the original EP today suggests the item does not circulate on the marketplace very often making it ripe for reintroduction to the current marketplace with this expanded version.

Anthony DeCurtis of Rolling Stone magazine noted Current Rage as "An up‐and‐coming standout", in his feature article charting the explosion of innovative bands coming out of the Atlanta‐Athens area in 1983 in the wake of REM's rise to national prominence.

This bundle includes a CD in a full-color gatefold digipak + Webstore-Exclusive Orginal 1982 Show Flyer Design on a unisex super-soft Sliver T-Shirt.
CD / Vinyl Track Listing: 
Right Side of the Brain

Waikiki

Bitte Schön (Beat to Shame)

Sweet Torture

Scream In the Dark

My Dog, Sam

Looking Through Gels

Punch A Clock

Adventures in America

Constant Hiss (demo)

The Theme

Book Pressed Flowers (live)

Tequila (live)

AF (live)

My Dog, Sam (live)

WRAS Interview 1982