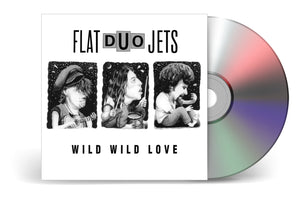 Flat Duo Jets - 'Wild Wild Love' - 2-CD Set
$10.00
Translation missing: en.products.product.regular_price
$15.00
Flat Duo Jets "Wild Wild Love" 2-CD Set
The full-length album by the roots-rock landmark Flat Duo Jets, originally released on Dog Gone Records in 1990, is back and is now expanded on a two-CD set entitled Wild Wild Love.
Singer/guitarist Dexter Romweber and drummer Chris Crow Smith were still teenagers when they formed Flat Duo Jets in Chapel Hill in 1984. Inspired in equal measure by the Cramps haunted rockabilly and vintage drive-in horror movies, they cooked up a metallic version of rockabilly that sounded as if it had been launched into the deepest quadrants of the astral plane.
The Jets spent just enough time in Athens, GA to appear in 1987 documentary Athens, GA: Inside/Out before they expanded to a trio lineup and connected with producer Mark Bingham to record Flat Duo Jets, an album that still sounds just as powerful today. "No overdubs, no nothin, just straight to tape like it was 1957", Bingham says of the recording sessions. 
FOR A LIMITED TIME, Receive this CD FREE with purchase of a  Webstore-Exclusive T-Shirt HERE! 
Track Listing: 
DISC 1: "Flat Duo Jets" LP
1-1 My Life, My Love
1-2 Please, Please Baby
1-3 When My Baby Passes By 
1-4 Madagascar
1-5 Mill Stream
1-6 Baby
1-7 Chiquita
1-8 Sing, Sing, Sing
1-9 Wild Wild Lover
1-10 Tribute To Gene
1-11 Pink Gardenia
1-12 Man With The Golden Arm
1-13 Dreams Don't Cost A Thing
1-14 Strut My Stuff 
 "In Stereo" EP
1-15 Riot In Cell Block #9

1-16 I'm Sorry
1-17 Love Me
1-18 Theme For Dick Fontaine
1-19 Think It Over
1-20 Raining In My Heart
Disc 2: "The Outtakes"
2-1 Bring It On Home
2-2 Minor Swing
2-3 You Made Me Cry (version 1)
2-4 Love Has Its Jokes
2-5 Penetration (version 1)
2-6 Rock Me Baby
2-7 Wild, Wild Lover (Outtake)
2-8 Apple Blossom (Time Mix)
2-9 Bumblebee Boogie
2-10 Look Down 2
2-1 1Sleepwalk (Take 7) 
2-12 Harlem Nocturne
2-13 Justine (version 1)