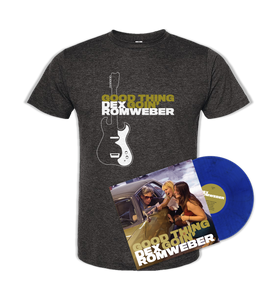 Dex Romweber Limited Edition LP + Website Exclusive Tee Bundle
Dex Romweber Good Thing Goin' LP + Tee Bundle

Dex is back with Good Thing Goin'. On his first new album in 7 years, Dex finds a balance between battered guitars, piano ballads, and reverb-drenched vibes while powered by the inspiration of classic gospel and soulful R&B.
This bundle includes:
Limited Edition Blue Hour (Opaque Blue & Black) Vinyl.

Webstore-Exclusive design on unisex super-soft Heather Charcoal T-Shirt.
Track Listing: 
Good Thing Going

If You Love Me

Going Down

Comin' Home

Andrieux Boogie

For All We Know

Shape of Things To Come

Twine Time

Tell Laura I Love Her

Saturday Morning

Sally

I Found My Love
  ** Limited Edtion Blue Hour (Opaque Blue & Black) Vinyl [Only 100 Made] **