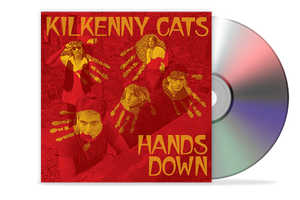 Pre-Order Kilkenny Cats' Hands Down on CD
Pre-Order Kilkenny Cats' Hands Down on CD
From Athens, Georgia. This release commences the start of a full catalog reissue campaign. The album includes "Nightfall" as featured in the seminal rock documentary film Athens, Ga Inside/Out.
"Moody Southern goth," "hard-driving college rock," "pop-ish hypnotic indie dance rock," 'haunting melodies & blazing guitar," "dark, but pop" are all phrases from reviews attempting to classify Kilkenny Cats.
"There are some great bands [in Athens]. Number one: the Kilkenny Cats."
-R.E.M.'s Mike Mills - Spin magazine (1985)
The band has reunited and will begin to support their catalog reissues with new regional touring.
This is a CD in a full-color gatefold digipak w/ an 8-page booklet
Track Listing:
Nightfall
Shakin' In The 60's
Morning Song
Edith Sitwell
Thinking Fire
Carousel
Hands Down
Country Junk
Far Reaching Sign
Tatterman
Sister Sin
Room 101 [Digital/CD Only]
Burly Beast  [Digital/CD Only]
Neighborhood  [Digital/CD Only]
House Above The World  [Digital/CD Only]

**This is a Pre-Order**
**All Items Will Ship On 11/06/2023**