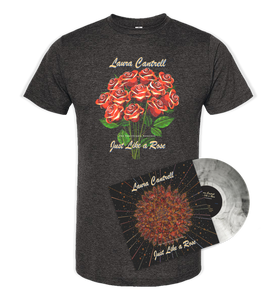 Laura Cantrell - Just Like A Rose - LP + Tee Bundle
Laura Cantrell's Just Like A Rose LP + Tee Bundle.

After a 9-year hiatus, Laura Cantrell is back with a new studio album. Featuring her guests, Steve Earle, Buddy Miller, and Paul Burch. It was produced by Don Fleming (Sonic Youth, Teenage Fanclub), David Mansfield (Bob Dylan, T-Bone Burnett), Rosie Flores & Ed Stasium (Talking Heads, Ramones).
This bundle includes Webstore-Exclusive Translucent Black Vinyl with a full-color inner sleeve + Webstore-Exclusive Design on a unisex super-soft  Heather Granite T-Shirt.

Track Listing:
Push the Swing
Bide My Time
Brand New Eyes
Just Like a Rose
When the Roses Bloom Again
Secret Language
Unaccompanied
I'm Gonna Miss This Town
Good Morning Mr. Afternoon
Holding You in My Heart