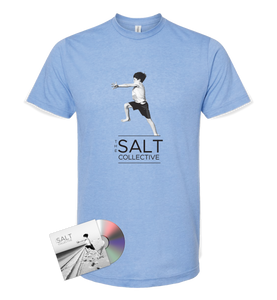 The Salt Collective Life CD + Tee Bundle.
The Salt Collective's "Life" CD + Tee Bundle.
An international "supergroup" collaboration between SALT ( based in Paris, feat. Stéphane Schuck, guitars; Benoit Lautridou, drums; Fred Quentin, bass) and their guests Matthew Caws (Nada Surf), Juliana Hatfield, Matthew Sweet, Peter Holsapple (The dB's), Richard Lloyd (Television), Mitch Easter (Let's Active), Anton Barbeau, The dB's rhythm section (Gene Holder & Will Rigby), Susan Cowsill (The Cowsills), Pat Sansone (Wilco), and newcomer Faith Jones. Produced and guided by Chris Stamey (The dB's).
This bundle includes a CD in a full-color gatefold digipak with a full-color 16-page booklet + Webstore-Exclusive Design on a unisex super-soft  Heather Light Blue T-Shirt.
Track Listing:
Asylum (feat. Matthew Caws & Juliana Hatfield)Push the Swing

Where the Wild Things Are (feat. Juliana Hatfield & Richard Lloyd)

Not Going Back (feat. Chris Stamey & Pat Sansone)

The Pebble In My Hand (feat. Peter Holsapple)

Another Bus Coming (feat. Matthew Caws & Mitch Easter)

Dream Inside Me (feat. Matthew Sweet)

A Piece of Candy (feat. Anton Barbeau)**CD/Digital Only

Nursery Rhyme (feat. Chris Stamey & Peter Holsapple)

Throwing Stones (feat. Chris Stamey & Faith Jones)

Spacewalk 2068 (feat. Susan Cowsill)

I Knew You So Well (feat. Chris Stamey)

Making It Up As We Go Along (feat. Chris Stamey)**CD/Digital Only