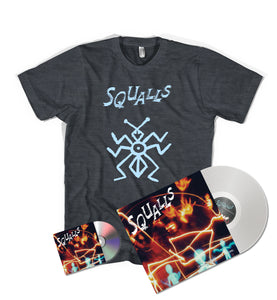 Squalls LP + CD + Tee Bundle
Squalls [Expanded Remastered Edition] LP + CD + Tee Bundle.

The band's self-titled debut has been out of print since 1985. Newly remastered and expanded with unreleased demos and a follow-up single, this set features their most well-known songs, "Elephant Radio," "Na Nanana," and "Crickets." This is the first release in a three-album reissue series from Squalls on Propeller Sound Recordings.

One of the original bands out of the Athens, GA indie rock scene, Squalls played their first show at the world-famous 40 Watt Club in Athens, Georgia on December 3, 1981. The band reached a wider audience thanks to an appearance in the 1986 documentary movie Athens, GA: Inside/Out.
Bundle includes: 
Webstore-Exclusive "Elephant Radio" Grey Vinyl with an 8-page full-color archival booklet with lyrics & photos

a

 

CD 

in a full-color gatefold digipak

 with a 28-page full-color archival booklet 

Webstore-Exclusive 

design on unisex s

uper-soft Dark Charcoal Heather T-Shirt.
TRACK LISTING
Elephant Radio
Strollin' Bones
Information
Na Nanana
Relax
Kalinka
The Sheik (Demo 1983)
Uh (Demo 1983)
Feet Are Walking (Demo 1983)
Bride of Frankenstein (7" Single 1985)
Crickets (7" Single 1985)